Goldust vs. Stardust
Brandon: Stardust. Stardust wins… unless they want to continue this into WrestleMania. In that case, either Goldust wins or there is no clear winner.
Mike: Goldust. I think Goldust will actually win and Stardust will cease to exist – leading to a Goldust vs. Cody match at wrestlemania
The Usos (c) vs. Tyson Kidd & Cesaro
Brandon: The Usos. I want Kidd & Cesaro to win but Usos will win and retain.
Mike: The Usos. I like Kidd and Cesaro. This match should be really good actually. I won't like the Usos winning, kinda getting bored of them – but they will win.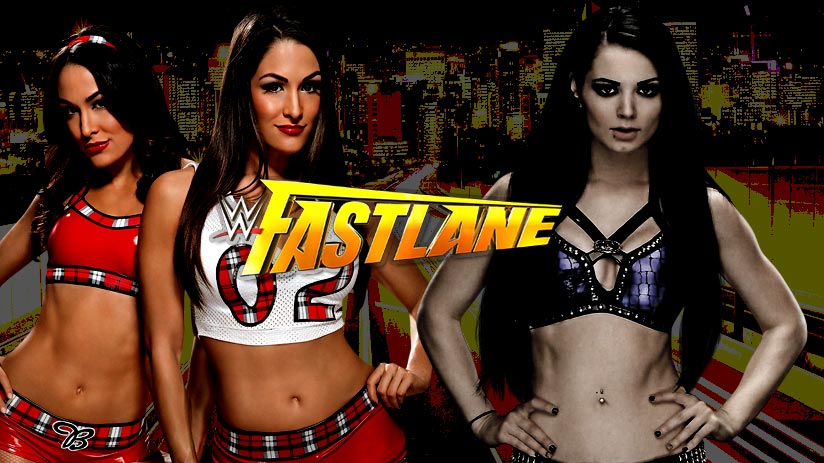 Nikki Bella (c) vs. Paige
Brandon: Nikki Bella. Paige should be champ… but oh who the F cares?
Mike: Nikki Bella. NXT taught me that I am a fan of women's wrestling – but the current WWE "Diva Division" just bores me to tears. I guess I'd rather have Paige win, but I think the Boring Bella will retain.
Dolph Ziggler / Ryback / Erick Rowan vs. Seth Rollins / Big Show / Kane
Joe: Kane/Big Show/Rollins
Brandon: Ryback/Rowan/Ziggler. I would pay my hard earned cash to see Ziggler vs. Rollins but I could care less about this match. I think Kane and Big Show argue during the match and cost their team the win. This will set up the worst WM match in a long ass time.
Shaun: Kane/Big Show/Rollins
Mike: Kane/Big Show/Rollins. This seems like the biggest throw away match of the night. I think the heels come out on top – and hopefully all this does is lead to a Rollins vs. Ziggler match at Wrestlemania.
Bad News Barrett (c) vs. Dean Ambrose
Brandon:Dean Ambrose. Ambrose will win the belt… or get buried…
Mike:Dean Ambrose. Time for a belt change. Glad Barrett is back, but I almost forget that he is the IC champion.
Rusev (c) vs. John Cena
Brandon: John Cena. I think Cena will win but either by DQ or count out. This feud definitely continues into WM 31.
Mike: Rusev. The Bulgarian comes out on top – so that Cena can come out on top at Wrestlemania.
Triple H and Sting Meet "Face to Face"
Brandon: They will confirm their match for WM 31.
Mike: Is this leading to a match? Will there be fisticuffs? Will this be a waste of time? Is there something else bigger at play?
Roman Reigns vs. Daniel Bryan
Brandon: Roman Reigns. I went with Roman Reigns… whether or not Daniel Bryan wins, Reigns will be in the WM main event and will leave as WWE Champion so who cares?
Mike: Roman Reigns. Are they really going to change their mind this quick? Was this the plan all along? I doubt that. Maybe we'll get ANOTHER triple threat? Hmm, I wonder – but for some reason I think Reigns will take this one, and yet I hope I'm wrong.
Final Thoughts
Brandon: This will be a mediocre PPV but will do its ultimate job of setting up WM 31. I predict Raw the next night will be better.
Mike: I can't imagine anyone spending $49.95 on this as a standard PPV. I'm kind've an movie nerd too so I may be flipping over to the Oscars here and there. RIP Elimination Chamber. And if there is any chance of an Undertaker at Wrestlemania, wouldn't tomorrow be the day for him to show up?"
---
Follow Joe on twitter at @NHPunk
Follow Brandon on twitter at @WrestleBrand
Follow Shaun on twitter at @spc73
Follow Mike on twitter at @WrestleWatcher