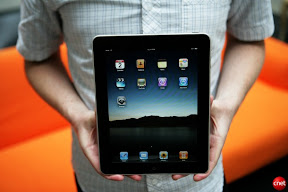 Well, this past week I became one of those people. An iPad owner. An iPad is one of those things that I've always wanted but figured I'd never have because I just couldn't justify spending that kind of money. However, getting one is a gift pretty much takes away the need to justify anything.
So, here I am. An iPad owner.And since I'm also trying to be a blogger, albeit one that doesn't post nearly enough, I though it's be a good idea to find a blogging app that would make it easy share stuff on my site.
I pretty quickly downloaded the BlogPress App for $2.99 and so far I like it, but I have no idea how this is going to look on the live site. I like how I easily can add a photo but the options for how it looks aren't perfect. It would also be nice if I could switch to an HTML view to add some tags in.
Not sure if I can add in YouTube vies either but I am able to like to my YouTube account so I am guessing there is some sort of integration.
And that's all I really have for now. If things come out okay, maybe I'll be using this for all my posts and maybe I'll post more often for once.
Well with Fall TV right around the corner it's pretty safe to say that will happen. Now the question is will I be doing that on my computer? Or on my iPad?
SUBSCRIBE:
Apple | Spotify | Amazon | Anchor | GoodPods | PlayerFM | Google Podcasts | RSS
FOLLOW:
Twitter | Instagram | Bluesky | Threads | Mastodon | Letterboxd | Facebook
CONTACT:
geekmentality@fansnotexperts.com | Leave a Message Through Anchor