I have been a fan of Faith No More since I first heard their breakthrough song "Epic" 25 years ago. I was in the 8th grade when I bought that album, The Real Thing – actually I bought the tape and was always fascinated that the cassette was blue instead of the normal gray.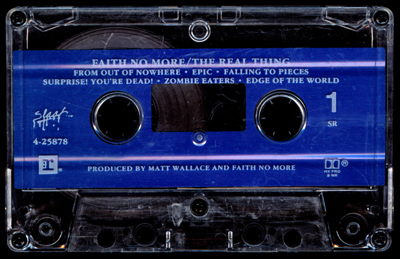 But that was Faith No More then and that is Faith No More now. Not normal. Not pigeonholed in the genre hungry music industry. Sometimes they were rock. Sometimes they were metal. Sometimes they were punk. Sometimes they were jazz. Sometimes they were funk.
But they were always different and I loved them for it.
After "The Real Thing" I discovered that they had other albums, with a previous singer, pre-dating their breakthrough record. Millions of people everywhere probably don't even know that they one of the songs of this album, but if they were fans of Discovery Channel's "Dirty Jobs" they heard Faith No More at the beginning of every episode!
I was in college when Faith No More broke up. I always considered FNM my second favorite band (next to Iron Maiden) and was pretty sad when I read the news (probably on AOL or Prodigy). I followed different band members' careers over the years, and continued to listen to all the Faith No More material I had over. And over. And over. Hoping. One day. Maybe.
And then one day came. Back in 2009 Faith No More announced they were reuniting for a tour. I hate myself for not being able to see them, but the closest show was in NYC and there was no way I could get out there. After a few years of a reunion tour, it once again looked like they were done.
And I was left again with that hope – that maybe. Maaaybe….
And then I see that they schedule a show. And then I hear that they were doing songs people didn't know. New songs? New material? Really!?
Then I get a tweet from my cousin (@WrestleBrand) with a link to a soundcloud…
NEW FAITH NO MORE SONG!!!!
I already heard fuzzy live versions of this song – M**********r – but now I was hearing the studio version. And I listened. And listened. And listened again. It was new – but it was still the Faith No More I love….Oh and if there are kids around or you're at work…Well the title of the song should be warning enough….
And yes, I am listening to it again right now.
With this single, and a new album coming in 2015, my hopes are high that a tour is to follow and I can finally see live the band I fell in love with 25 years ago.
---
"M**********r" is available for pre-order on iTunes now. The single will be available December 9, 2014 digitally, and physically on 11/28 (maybe vinyl?).
For more information on Faith No More, visit http://www.fnm.com.
Follow Mike on twitter at @mikey_c.